[ad_1]

University News | February 18, 2022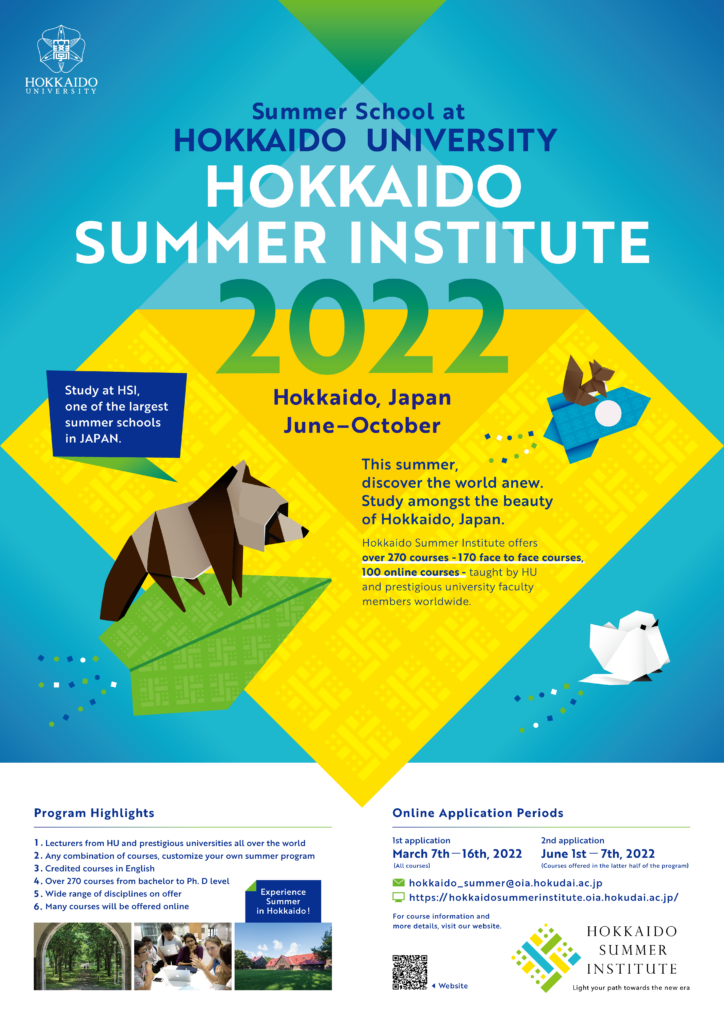 Hokkaido Summer Institute 2022 course list has been finalized!
The season for the Hokkaido Summer Institute (HSI) is approaching once again! More than 160 world-leading researchers from overseas will gather at Hokkaido University this summer for the HSI, which was established in 2016 and provides lectures with the university's faculty members for five months during the summer.
The university continues to expand the program, and for this summer there will be over 270 courses (around 220 graduate courses and around 50 undergraduate courses).
From the year of 2022 we will offer three formats, On-Campus course (Face-to-face), eHSI course (Online), and newly established "Recurrent Education course (HSI for Adults). Participants can choose a format which meets their convenience. Many of the courses are open to both students and adults.
How many courses will you take? Visit the HSI website and check out the courses.
https://hokkaidosummerinstitute.oia.hokudai.ac.jp/
1st application acceptance period
Open: March 7 (Mon), 2022, 12:00 JST*
Close: March 16 (Wed), 2022, 17:00 JST*
*JST=Japanese Standard Time
Please refer to the HSI website for other application periods. We look forward to receiving your applications from all over the world!
This summer, discover the world anew.
Study amongst the beauty of Hokkaido, Japan.
[ad_2]

Source link